Singing Men of Texas
More than twenty-three indigenous groups, including mayors, the president of Extremadura and even the bishops and archbishops, provided Texas Baptist their finest theaters and churches to perform in.(including the largest cathedral in Spain and a Roman theater built in 25 B.C. -seen above.) Local banks voluntarily printed full-color advertisements, programs and distributed thousands of tickets across the region. The Texans-- including the President of the BGCT, two mayors (Corsicana and San Antonio 1995-1997) and a representative of Gov. George Bush--were officially received by eight mayors. Three mayor personally attended the concert. One mayor even paid over $1,400 to lodge Baptists in his city! The immediate results were that the volunteers performed eleven concerts before large, enthusiastic audiences and on television and twelve Spaniards made professions of faith in Jesus Christ. Over one thousand families submitted their names and address to receive a copy of the Baptist choir's Christian music. Those families are being individually visited in their homes by missionaries and local churches.
Advance Team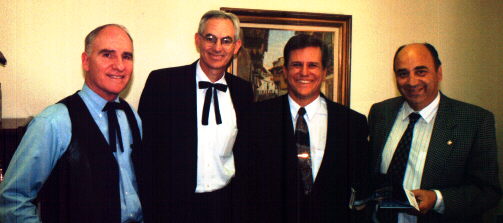 Don Blackley, Bruce Berry, David Borgan and Matias Rubio, Bank executive in Caja de Extremadura
Click on photo or here for the original photographic
See article in the May 12, 1999 edition of the Texas Baptist Standard for a more details and photos.