Hope for Prisoners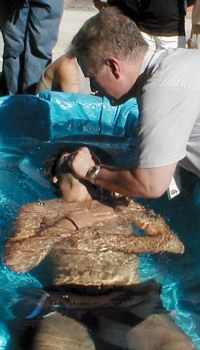 Jesus said..."The Spirit of the Lord is on me, because he has anointed me to preach good news to the poor. He has sent me to proclaim freedom for the prisoners and recovery of sight for the blind, to release the oppressed, to proclaim the year of the Lord's favor."
"When did we see you sick or in prison and go to visit you?"
The King will reply, "I tell you the truth, whatever you did for one of the least of these brothers of mine, you did for me." Mat. 25:39-40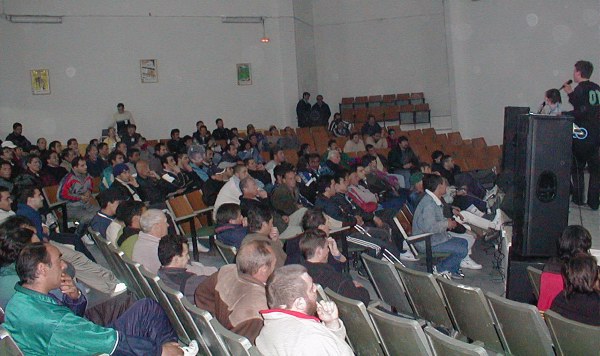 In the Cáceres prison 200 inmates hear the Gospel.
Eighty turned in response cards indicating they had prayed to receive Christ.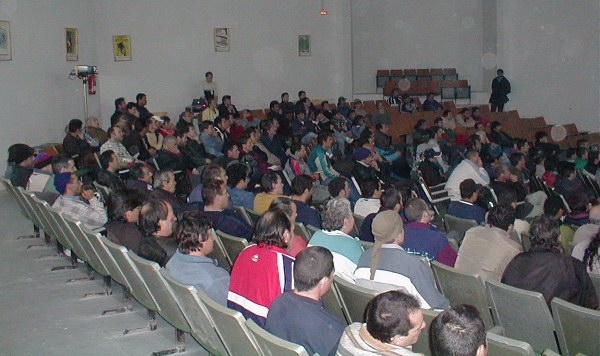 Of those who made decisions for Christ, 36 men and women were baptized in April, May and June 2003.

Last baptismal service on June 6, 2003. Two-thirds of these men above have been saved and baptized.
107 were baptized since 1999 when we first received permission to conduct baptisms in the prison.
José Amaru rejoices to confess Christ by baptism. Hans (above right) finds new hope and purpose in Christ.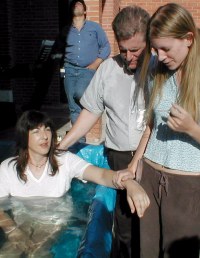 Our daughter Grace prays for Montse in the baptistry. We held weekly classes in the women's unit above.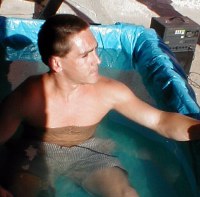 Miguel Angel (above) was baptized May 2003 and Joy led his fiancé, Nieves, to Christ in our home.
March 2001 visit to the Women's Unit with the Gordon, Amy and Jamie Moore.
Gordon sang an outstanding solo. Men and women pray to accept Christ and were baptized Easter Sunday.
Photo Gallery of Baptismal Service April 23, 2000
On Easter Sunday we celebrated the Resurrection with seven men following the Lord in believers' baptism. It had been raining all week but on Sunday the skies cleared in perfect timing for the outdoor service. David gave a message on how baptism is the symbol of our identification with Christ's death and resurrection.
The men were full of joy as they gave public testimony to their faith in Jesus Christ before the assembled inmates and guards.